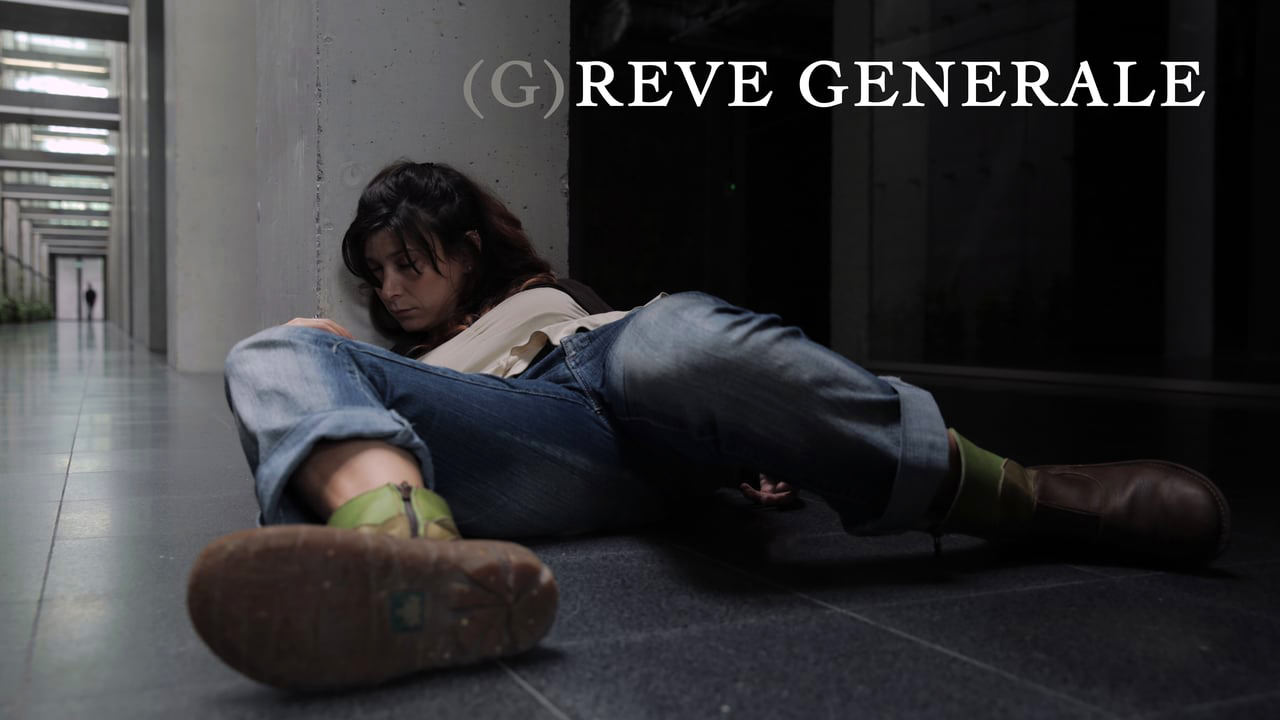 EN: Four confused immigration canditates explore a large empty building. They speak four languages. Why does the telephone not work? Why is the money erased? Where are they going? This political architecture dramedy raises issues of religion, migration, and resistance. It is the first film of author…
Full summary
EN: Four confused immigration canditates explore a large empty building. They speak four languages. Why does the telephone not work? Why is the money erased? Where are they going? This political architecture dramedy raises issues of religion, migration, and resistance. It is the first film of author and co-director Linda Hecquet and was produced at KinoEaters Reset in Lublin within 3 days.
FR: Quatre canditates d'immigration confuses explorer un grand bâtiment vide. Ils parlent quatre langues. Pourquoi le téléphone ne fonctionne pas? Pourquoi l'argent effacé? Où vont-ils? Cette architecture dramedy politique soulève des questions de religion, la migration et la résistance. Il est le premier film de l'auteur et co-directeur Linda Hecquet et a été produit à KinoEaters Reset à Lublin dans les 3 jours.
PL: Czterech zagubionych imigrantów zwiedza duży, pusty budynek. Mówią czterema różnymi językami. Dlaczego telefon nie działa? Dlaczego nadruki na banknotach zostały wymazane? Dokąd idą? Ten polityczny, architektoniczny komediodramat porusza kwestie religii, migracji i oporu. Jest to pierwszy film autorstwa współreżyserki Lindy Hecquet. Został zrealizowany podczas Kinojadów Reset w Lublinie w ciągu 3 dni.
DE: Vier verwirrte Immigrationsanwärter erkunden ein großes leeres Gebäude. Sie sprechen vier Sprachen. Warum versagt das Telefon? Warum ist das Geld gelöscht? Wohin gehen sie? Diese politische Architekturdramödie bohrt sich in die Themen Religion, Migration und Widerstand. Für Autorin und Co-Regisseurin Linda Hecquet ist dies ihr erster eigener Film. Er wurde im Rahmen der Filmwerkstatt KinoEaters Reset in Lublin innerhalb von 3 Tagen produziert.
TR: Kafası karışık dört göçmen adayı, boş büyük bir binayı keşfediyorlar. Dört farklı dil konuşuyorlar.
Burada telefon neden çalışmıyor? Kağıt banknotların üstü neden silinmiş? Nereye gidiyorlar?
Politik drama dinle, göçmenlikle ve direnişle ile ilgili konuları masaya yatırıyor. Filmin senaristi ve yönetmenlerinden biri olan Linda Hecquet, filmi Lublin'de KinoEaters Reset yapımcılığında üç günde tamamladı.
ES: Cuatro canditates inmigración confusas explorar un gran edificio vacío. Se habla cuatro idiomas. ¿Por qué el teléfono no funciona? ¿Por qué se borra el dinero? ¿A dónde van? Esta arquitectura política comedia dramática plantea cuestiones de religión, la migración y la resistencia. Es la primera película de autor y co-director de Linda Hecquet y fue producido en KinoEaters Reset en Lublin plazo de 3 días.
IT: Quattro confuso immigrante concorrente esplorare un grande edificio vuoto. Parlano quattro lingue. Perché fallito il telefono? Perché viene cancellato il denaro? Dove vanno? Questo commedia d' architectura politica esercitazioni nelle materie di religione, la migrazione e la resistenza. Per autore e co-regista Linda Hecquet questo è il suo primo film personale. E 'stato prodotto come parte del film workshop KinoEaters Reset a Lublino entro 3 giorni.
Director:

Dave Lojek, Linda Hecquet

Writer:

Linda Hecquet

Cast & Crew:

Dave Lojek, Kaja Grzybowska, Linda Hecquet, Marco Griffini, Mirko Rizzello, Mustafa Yol, …

Full cast & crew

Cast & Crew:

Dave Lojek, Enrico Basile, Kaja Grzybowska, Linda Hecquet, Marco Griffini, Mirko Rizzello, Mustafa Yol, Tom Kino, Tomas Cech