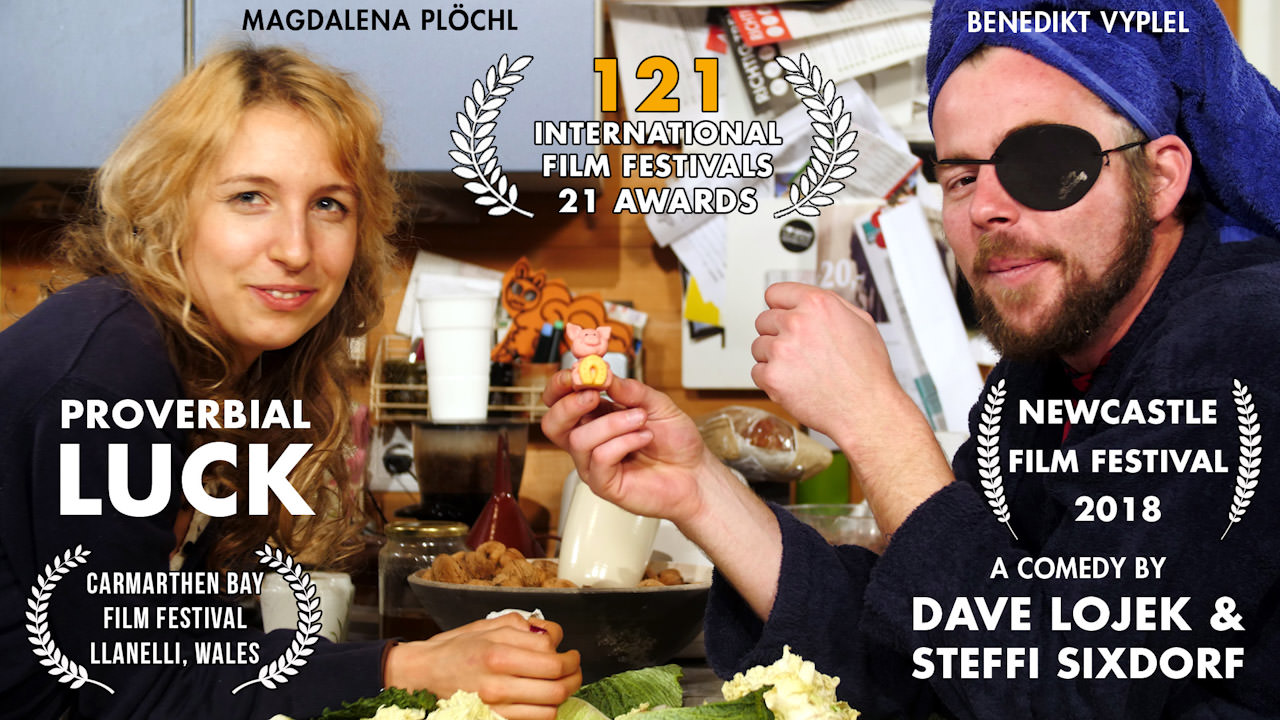 EN: Idioms garnish our language, but are often hard to translate. This comedy helps to illustrate them and tells the story of two neighbours, who become enamoured. The "foam-beater" (boaster) Hanspeter throws an eye after an addleheaded Annemarie, but she just "shows him the bird…
Full summary
EN: Idioms garnish our language, but are often hard to translate. This comedy helps to illustrate them and tells the story of two neighbours, who become enamoured. The "foam-beater" (boaster) Hanspeter throws an eye after an addleheaded Annemarie, but she just "shows him the bird" (indicates that he is chuckoo). So he has to "jump over his shadow" (take the plunge) and get a foot in her door. Amusement for all proverb fans who love to make whoopee, gaze into the pale blue yonder, or get to the point.
DE: Idiome garnieren unsere Sprache, sind aber mitunter schwer zu übersetzen. Diese Komödie hilft beim Bebildern und erzählt von zwei Nachbarn, die Gefühle entwickeln. Nachdem der Schaumschläger Hanspeter ein Auge nach der verwirrten Annemarie wirft, zeigt sie ihm zunächst den Vogel. Also muss er über seinen Schatten springen und einen Fuß in ihre Tür kriegen. Ein Spaß für alle Sprichwörterfans, die gerne auf den Putz hauen, Löcher in die Luft starren oder schnell auf den Punkt kommen wollen.
ES: Los refranes o modismos enriquecen nuestro lenguaje, pero son difíciles de traducir. Esta comedia ayuda a ilustrar los y cuenta la historia de dos vecinos que se enamoran. El come-espuma (fanfarrón) Hanspeter le echa un ojo a la despintada Annemarie, pero ella "le muestra el pajarito" (significa que a él le falta un tornillo). Asi que él tiene que "saltar por encima de su sombra" (sobreponerse a su miedo), y meter un pie en su casa.
Director:

Dave Lojek, Steffi Sixdorf

Writer:

Peter Lutz, Steffi Sixdorf

Cast & Crew:

APEIRON FILMS, Lukas Treudler, Magdalena Plöchl, Maxi Kalleder, Mirko Rizzello, Moritz Schmidt, …

Full cast & crew

Cast & Crew:

APEIRON FILMS, Benedikt Vyplel, Lukas Treudler, Magdalena Plöchl, Maxi Kalleder, Mirko Rizzello, Moritz Schmidt, Nico Seddiki, Patrick Düren, Peter Lutz, Pia Reichart, Richard Diesterbeck, Tomas Cech, Viktor Adamek